About the Pilot, Dan Campbell
Z-Balloon Adventures owner/operator is Dan Campbell, is the Chief Pilot. Dan has been involved in Hot-Air Balloons since 1973. At the age of 13 Dan became penpals with Wilma Piccard, wife of Don Piccard and together, they spurred Danny's love for balloons. Danny still has every single letter that Wilma sent him.
An avid Hot-Air Balloon Pilot, Dan averages between 120 to 190 flights a year. To put this into perspective, an average Hot-Air Balloon Pilot flies 15 to 20 flights per year.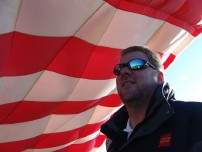 Danny deflating the US Flag Balloon in Albuquerque New Mexico at the ABQ Balloon Fiesta.
Dan holds numerous Hot-Air Balloon records and awards. In 1998 he ranked 1st in the nation in the Balloon Federation of America's Long Jump Competition. He took off from Des Moines and flew East to the Indiana state line in 5 hours and 20 minutes covering 317.6 miles and reaching a top speed of 80 mph! In addition, Dan holds the distinction of being Iowa's furthest flying pilot!
Dan was also the first to inflate and fly a Hot-Air Balloon in Veteran's Auditorium in Des Moines, an altitude record of "6 feet" was established January, 25th, 1997. In 1998 Dan also became the first pilot in Iowa in over 24 years to fly in the dark! He now offers this as a Passenger Ride option! These are known as "Dawn Patrols".
Dan has a LifeTime membership in the BFA (Balloon Federation of America). Being a Member since 1989!

Dan is also a BFA Level VII Prominent Aeronaut!
Dan is also a FAA Safety Wings Program Level 12 Pilot!

Campbell flies 1 to 2 Balloon Races a year. Usually Dan will fly the RE/MAX Hot-Air Balloon or another commercial balloon or a special shape balloon.
Dan was also ordained as a Minister in 2001 so as to allow him to conduct balloon weddings and cremain scattering ceremonies.

In addition to owning and operating Z-Balloon Adventures, Campbell's company sells and rents Cold-Air Advertising Balloons and Advertising Blimps to companies and individuals to call attention to their on-sight advertising.
Hot air balloon rides in Des Moines, Indianola and everywhere else in Iowa - Hot Air Ballooning in Iowa including such hot air balloon services as champagne balloon flights, engagements, weddings, anniversaries, scattering cremains, birthdays, gift certificates, hot air balloon sales, corporate hot air balloon advertising, balloon flight instruction, aerial photography and more! We're the launching point for your Iowa balloon ride.
Balloon Ride baloon ballon Des Moines Iowa Cedar Rapids Indianola Omaha Nebraska Missouri Illinois Minnesota Iowa City Ames Ottumwa Oskaloosa RE/MAX Remax REMAX Dan Campbell BFA Balloonist Pilot FAA National Balloon Classic BOI Balloons Over Iowa Bartholomew Z-Balloon Adventures Balloon Ride Baloon ballon balon ryde Piccard picard Soaring Adventures Dan Campbell Danny Campell campbel Iowa Ames Des Moines Cedar Rapids Council Bluffs Omaha IA Nebraska Minnesota Indianola National Balloon Classic On The Fly balloons Over Iowa BOI onthefly250@yahoo.com Galena Illinois Rob rtholomew Phil Gray Midwest Balloon Services Clemmons BFA Balloon Federation of America 1800SKYRIDESis Rob rtholomew Phil Gray M
Call us at 515-265-2402