Cold Air Rooftop Advertising Balloons
We carry a full line of Cold Air Balloons starting at 8 Feet tall all the way up to 30 feet tall! We offer them for rent by the day, by the week, by the weekend or by the month!

Our Cold Air Balloons can also be used indoors (like the picture on the left) for Trade Shows, Car Shows, Birthdays, Shopping Malls, etc! Cold Air balloons are not just limited to outdoor advertising! We carry a full line of sizes and shapes in stock, Unlike some companies that lie and say they own
the balloons, when in fact they just contract out your job to another balloon company. In our book,that is very dishonest and just raises the price for you, the consumer! We own all of our Cold Air Balloons! Don't be fooled!

Most of our balloons contain an internal lighting kit that makes the balloons glow brightly at night, hereby doubling your visibility and customer awareness of your event.

Our Cold Air Balloons can be used on the roof of your business or based on the ground.
Depending on your needs, you may wish to use a Blimp to increase awareness and
attention to your event. Ask us about a package promotion!
| | |
| --- | --- |
| This is an 8 feet tall Cold Air Balloon complete with lighting package. | |
Our Cold Air Balloons can be used on the roof of your business or based on the ground.
This is one of our 30 Foot Cold Air Balloons!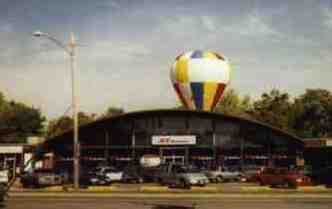 We offer a full-in house art department that can reproduce your logo on a custom banner to replicate a huge attention getting sign!
See some of our work below!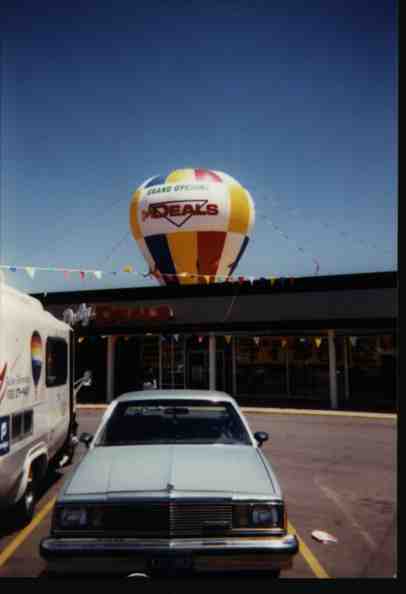 We are a full service balloon company! Not some unprofessional part-timer with little or no knowledge of how to utilize a Cold Air Balloon to increase your event awareness! Let a professional do the work and you reap the rewards of a successful promotion!
Call and let us know what you are trying to promote and let
us help you make your next event a super success!
Let our 16 years of experience go to work for you and your event!
Call us at (515)-265-2402 or email us here at balloon@dwx.com for information or a quote!
Z-Balloon Adventures is Hot air balloon rides in Des Moines, Indianola and everywhere else in Iowa - Hot Air Ballooning in Iowa including such hot air balloon services as champagne balloon flights, engagements, weddings, anniversaries, scattering cremains, birthdays, gift certificates, hot air balloon sales, corporate hot air balloon advertising, balloon flight instruction, aerial photography, weddings, balloon weddings, advertising blimps, blimps and more! We're the launching point for your Iowa balloon ride!

Balloon Ride baloon ballon Des Moines Iowa Cedar Rapids Indianola Omaha Nebraska Missouri Illinois Minnesota Iowa City Ames Ottumwa Oskaloosa RE/MAX Remax REMAX Dan Campbell BFA Balloonist Pilot FAA National Balloon Classic BOI Balloons Over Iowa Bartholomew Z-Balloon Adventures Balloon Ride Baloon ballon balon ryde Piccard picard Soaring Adventures Dan Campbell Danny Campell campbel Iowa Ames Des Moines Cedar Rapids Council Bluffs Omaha IA Nebraska Minnesota Indianola National Balloon Classic On The Fly balloons Over Iowa BOI onthefly250@yahoo.com Galena Illinois Rob rtholomew Phil Gray Midwest Balloon Services Clemmons BFA Balloon Federation of America 1800skyrides Z Balloon Adventures
Call us at 515-265-2402